Architecture
•
Landscape design
Residential
•
Build to Rent
Aubrey Place
Softening the 'grid' of Milton Keynes through landscape design
Milton Keynes / UK
Overview
This Build to Rent project comprises 294 new homes and a 44-room apart hotel in the centre of Milton Keynes. 
Alongside the new homes for rent, the ground floor will comprise a mix of design-led community and commercial space, providing opportunities for events and initiatives, such as local art exhibitions, live music and theatre performances, as well as pop-up community events. The project aims to add activity and vibrancy to Avebury Boulevard while also creating an appealing 'front of house' for the buildings' residents
The scheme complements the existing Milton Keynes infrastructure, particularly the renowned Milton Keynes 'grid'. The main building's entrance incorporates the existing 'porte cochére' network that acts as a marker for the pedestrian routes through the centre of Milton Keynes.
The proposed landscape, designed by Assael Exteriors, focuses on providing attractive residents' amenity spaces, creating a legible entrance to the development, and softening the 'grid' of Milton Keynes through the provision of trees, hedgerows and planting.
The public entrance square plays on the theme of 'disrupting the grid' and ties into the existing garden city design principles of Milton Keynes. This multi-functional space aims to a cater for a variety of uses and users with café breakout spaces, flexible seating and a central lawn with a series of planted areas that provide a rich and verdant setting for the built form.  Along the roadside, retained trees and porte cochére structures reinforce the wider pedestrian circulation and improve the legibility of the entrance.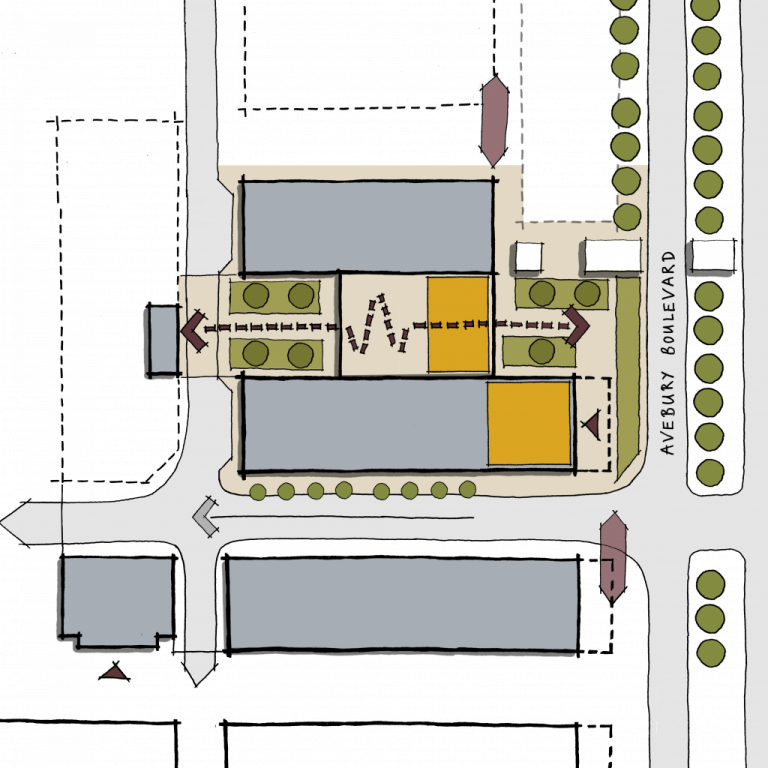 In line with the Build to Rent model, residents will benefit from a range of private internal and external amenity spaces. A sheltered podium garden includes children's play space, flexible seating areas, open lawns and intimate garden spaces with an interactive water feature. This landscaped courtyard will provide a seamless visual connection through to the internal amenity spaces and beyond to the public realm.
At 11th and 14th floors, rooftop spaces provide low maintenance south-facing terraces with outside seating, BBQ areas, pots and planters, and expansive views overlooking Milton Keynes.