(Is there) diversity in architecture?
"Black Lives Matter is an ideological and political intervention in a world where Black lives are systematically and intentionally targeted for demise. It is an affirmation of Black folks' contributions to this society, our humanity, and our resilience in the face of deadly oppression."
Alicia Garza, 'Herstory of the #BlackLivesMatter Movement'
It is no secret that the architectural profession must do more to improve diversity, of gender, class, ethnicity and all other minority identities. According to the RIBA's 2017/8 education statistics, only 12% of those who passed their RIBA Part III were non-white, and subsequently only 1% of British architects are black.
As architects, we have a responsibility to design places which are for everyone, but how can we appropriately design for diversity in society if we don't have diversity in our profession and wider industry?
Assael's Katherine Birkett – Architectural Assistant, Apprenticeship Ambassador and Apprentice on the Oxford Brookes Architect Apprenticeship programme – wrote this piece for the Worshipful Company of Chartered Architects (WCCA) about this topic, gaining insight from fellow apprentices Jo McLean and Bola Lasisi-Agiri.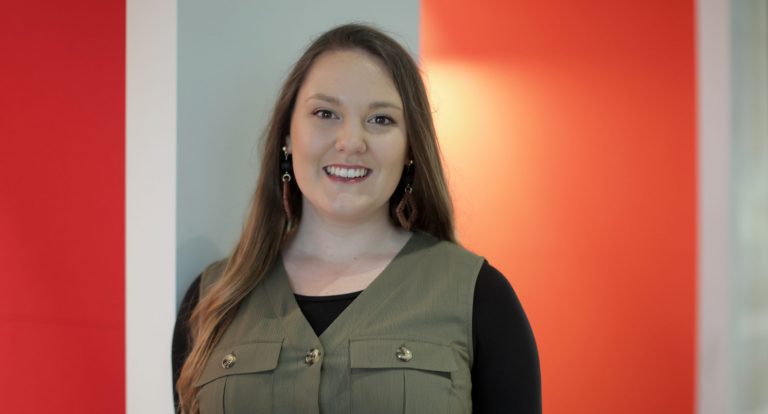 In June this year, the RIBA released a statement, condemning discrimination, hatred and violence:
"Stephen Lawrence's dream of becoming an architect was cut cruelly short in 1993 when he was murdered in a racially motivated attack. Today, racial inequality and violence continue to threaten lives and our future."
"As architects, educators and influencers, we can build the world we want to see. We can ensure that our profession supports equality for all. We support the work of the Stephen Lawrence Charitable Trust, and encourage others to join us. We stand together to drive out discrimination."
Femi Oresanya, Chair of RIBA Architects for Change
—
We could start with architectural education. It is apparent that we require a more suitable engagement strategy to encourage and create a profession which is more inclusive, equitable, equal and diverse.
In respect of this, I am overtly conscious to use this opportunity to share with you, the Company, the voices and experiences of my fellow apprentices.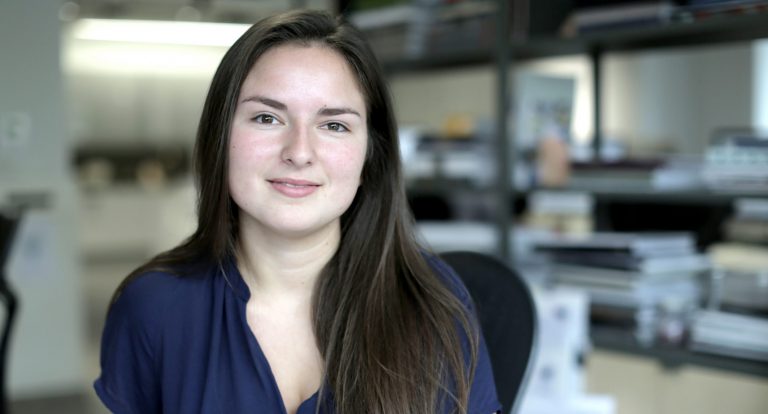 In conversation with fellow apprentice and colleague, Jo McLean (Pronouns: she/her).
Jo is an Architectural Assistant and Apprentice at Assael Architecture on the Oxford Brookes Architect Apprenticeship programme.
"The apprenticeship, for me, is an unrivalled opportunity to continue my research and actively support the shift in academia that the route pioneers."
"My undergraduate research project at the Bartlett School of Architecture, 'The Leaky Pipeline', sought to actively explore and expose the enduring gender issues in architectural education. Specifically, why a preponderance of women 'leak' out of architecture; a dialogue reflecting broader intersectional feminist conversations of equality, equity, inclusivity and accessibility of architectural education and their position within the wider profession and industry.
Intersectionality was a term introduced by Kimberlé Crenshaw in 1989. Crenshaw explains intersectionality as:
"The idea that we experience life, sometimes discrimination, sometimes benefits, based on a number of different identities that we have. The basic term came out of a case where I was looking at black women who were being discriminated against, not just as black people, not just as women, but as black women. Intersectionality was basically a metaphor to say; 'they've got race discrimination that they're facing coming from one direction, they've got gender discrimination coming from another direction, and they're colliding'. Intersectionality is meant to help people think about the fact that discrimination can happen on the basis of several different factors at the same time."
Whilst equality means giving everybody the same, equity is the aim, the challenge and the work in progress. Equity can be described as giving everybody what is required, relative to their respective needs, and a systemic and cultural shift is required to achieve it. The issue, in my view, is inequity enforced by a conscious and – equally as harmful – subconscious bias towards the privileged majority. Namely, the systemic and societal culture and attitudes which are biased towards affluent, white, male, heterosexual, cisgender, non-disabled, western religious identities. The abundant body of research on this topic indicates a number of causes of lack of diversity in architecture, persistently relating to the time, cost and culture associated with the training process and industry. These enduring issues most adversely affect those against whom the biases operate, particularly those who identify with multiple intersections. In my experience, identifying as a white queer woman has been both a privilege and disadvantage respectively. But the system has been significantly more equitable towards me than a black transgender woman, for example, who is at the crux of three intersections and experiences discrimination on each of these bases.
Architecture apprenticeships are a solution, offering a more equitable path to qualifying for many and tackling some of the enduring issues synonymous with the traditional system of architectural education. The apprenticeship, for me, is an unrivalled opportunity to continue my research and actively support the shift in academia that the route pioneers, challenging the conventional culture and system of architectural education to promote an ethos of collaboration, inclusivity and accessibility. A more equitable path is a more accessible one, that should improve diversity among students to promise greater diversity among architects."
—
As an apprentice, it seems fitting to consider the extent to which apprenticeships are pioneering diversity in education. Apprenticeships provide a unique approach to architectural education, offering part-time study, continuous employment and economic reprieve. These factors could provide a more accessible route into the profession for many, and could begin to address the 'pale and male' dominance within the industry.
The goal is to make architectural education more accessible for everyone; for people of every background, circumstance and identity. The apprenticeship scheme presents a real opportunity to achieve this goal, and enrich the profession in the process, by opening up the industry to all so that it better represents the diversity of our modern society.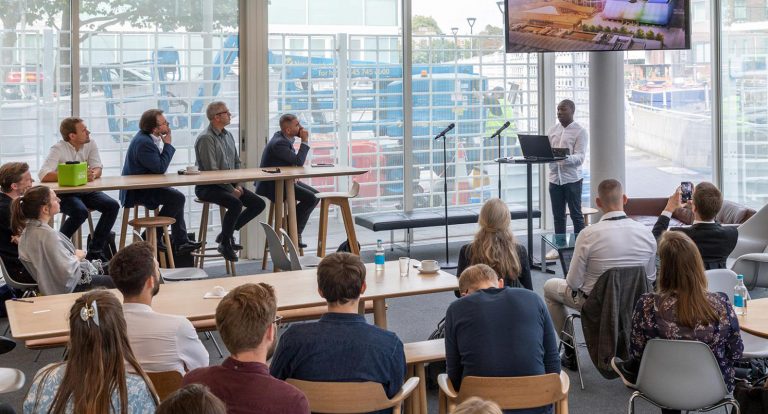 In conversation with fellow apprentice, Bola Lasisi-Agiri.
Bola is an Architectural Assistant and Apprentice at Fosters + Partners on the Oxford Brookes Architect Apprenticeship programme.
"It is essential to share and learn from diverse backgrounds as a 21st-century student."
"Through a recommendation from the Stephen Lawrence Charitable Trust, I was given the opportunity to undertake my masters degree in architecture at Oxford Brookes University with Fosters and Partners. This has had a huge impact on my dream of becoming an architect and alleviates some of the barriers that come with pursuing a career such as this. 
By going through the apprenticeship route, I am unburdened by the long-term financial strains that come with studying a course and able to earn a living to support me and my family. Unfortunately, for such reasons, this has not been the case for many BAME students as "figures show a 50 per cent drop-off rate from Part 1 to Part 2 for Black British males" in the AJ's 2019 Student Survey. Therefore, I understand the privileged position that I am currently in and see that this course has the potential to open more doors for people from a diverse background to gain access into the exclusive profession.
Nevertheless, the way the course is structured provides me with a well-supported chance to collaborate and train with some of the greatest experts in our industry, as well as actively contribute to the future of the built environment. I hope through the apprenticeship we can introduce more streams of entering into the profession and improve the current lack of representation of architects and architectural students from BAME backgrounds, taking a progressive step towards being an equitable profession for all."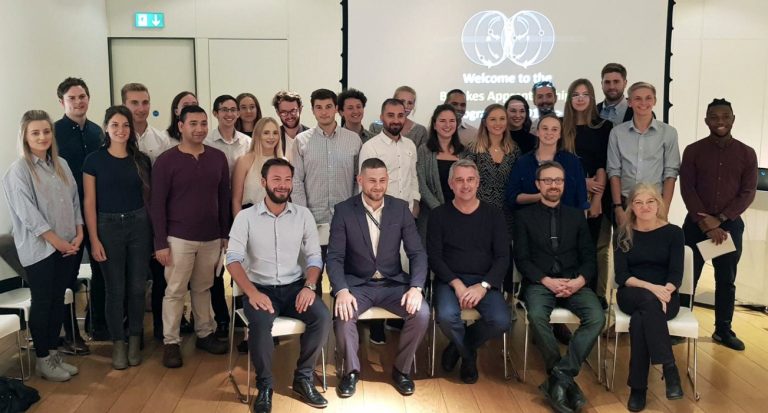 The Stephen Lawrence Charitable Trust believes:
"Every young person should be enabled to succeed, not limited by where they are born or the school they go to."
The Trust was founded on the premise that inequality must be tackled in all its forms. This includes inequality of access, and of opportunity, wherever it occurs:
"We are dedicated to transforming the life chances of young people and improving the world in which they live to enable them to develop and nurture their talent."
All young people should have access to the information and support required to succeed in education and be given the opportunity to progress in their career based on their skills, rather than their background, circumstances or identity.
It is apparent that the apprenticeship can offer a more equitable path to qualifying. Clearly, however, the apprenticeship doesn't yet epitomise diversity. We have a lot of work to do and architectural education is only one element of the vital change required to create an equal and diverse profession.
Industry, academia and we as individuals can contribute to this change by promoting progressive alternative approaches to education, and simply listening, learning and acting. We should work together in collaboration against inequity, exclusivity and injustice, remembering that it is a privilege to act against it, rather than to experience it.
Charities to support now: