Assael Architecture wins Meridian Water Placemaking with Purpose Competition
Assael Architecture has led an interdisciplinary team to win Meridian Water's Placemaking with Purpose competition, which was launched with the vision to enhance the sustainability of the second phase of Enfield's major masterplan of 10,000 new homes. 
Assael's proposal, Rightsizer, is a 'housing with care' community that aligns with Meridian Water's vision for environmental, social and economic sustainability to be at the centre of Meridian Water Phase Two. Rightsizer aims to provide an aspirational place to live for older people, with a variety of care and support needs, whilst helping to free up much-needed family-sized homes locally in the borough.
Assael has been working closely with global infrastructure consultancy AECOM to design an innovative construction system which will enable the building's interior to be easily reconfigured over a lifespan of at least 100 years to ensure maximum flexibility of use and space. Manufacture of the building frame can take place off-site, bringing benefits in terms of safety, quality, speed, and potentially local employment. 
By deploying a demountable structural system, specifically designed for disassembly and reuse, waste will be significantly reduced, supporting the principles of a circular economy and low embodied carbon construction. This system could be used across the wider development for buildings of different uses and where their use could potentially change in the future.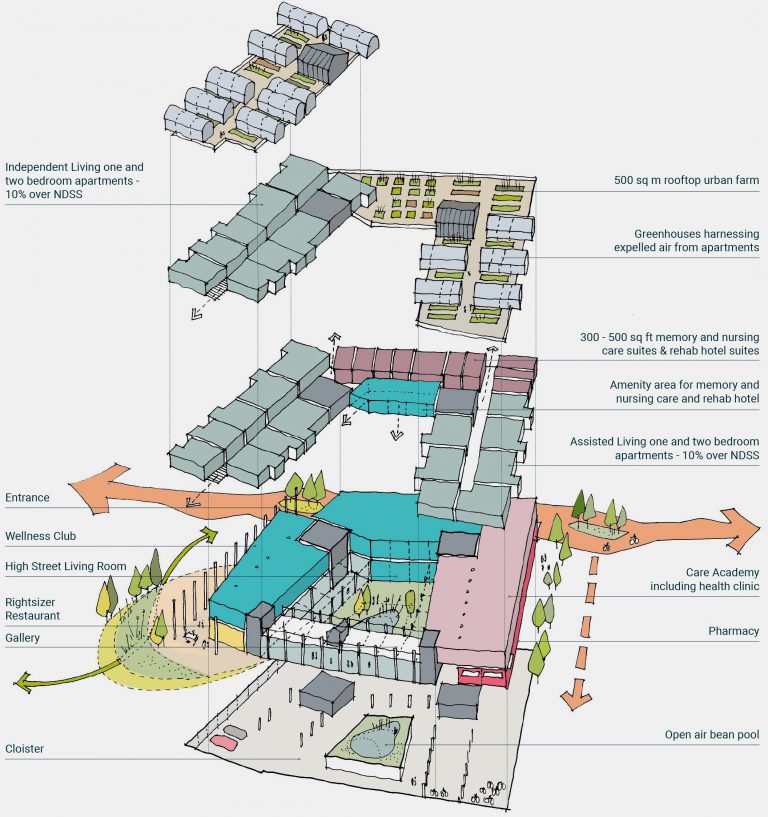 Rightsizer is a community-focused concept; it embraces the idea of fostering an integrated and intergenerational community through the provision of a range of accessible amenities. These spaces, positioned around a central cloister, include a wellness club, a 'high street living room' – a ground floor hub open to the community that will be curated and managed by residents – and a 'reminiscence museum' that celebrates the history of the local community whilst assisting residents with memory loss and dementia.
A strong emphasis is also placed on repositioning care as a vocation, making Meridian Water a great place to work as well as live. Working with Origin Active Lifestyle Communities, the Rightsizer team is proposing the creation of a Care Academy that will recruit locally and train tomorrow's carers, with the creation of over 200 new full- and part-time carer positions.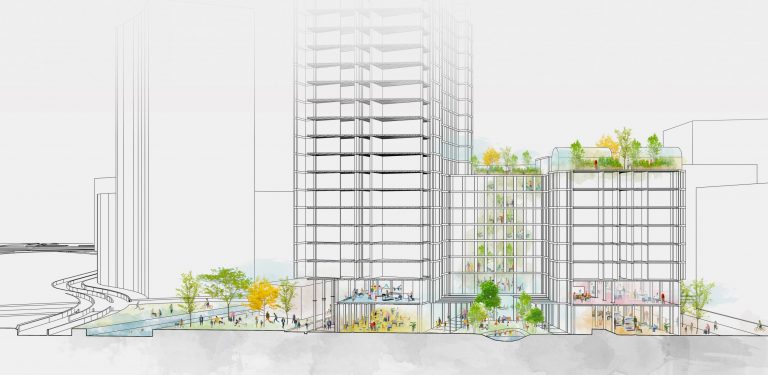 Three landscape systems, designed by Exterior Architecture, integrate and celebrate the dynamic interrelationships between culture/community and environment/ecology. The closed-loop blue system, water, sees the collection of rainwater for irrigation, treatment using natural reedbeds, and use to fill the 'bean pool' located at the centre of the scheme. The green system centres around the Brooks and associated ecological corridors, and the urban farm at rooftop level, whilst the social system seeks to activate spaces and encourage socialisation through a network of diverse open spaces, from intimate garden nooks to flexible public space for flexible curation and events.

The winning team also comprises Hatch Regeneris on social value and impact; Jo Wilson (The City Green) on food systems to help foster 'farm-to-fork' thinking; ArchitectureDoingPlace on placemaking and architecture; and Knight Frank as senior living advisors and viability.
The 'Rightsizer' team is now developing these ideas to be fed into the new masterplan and meanwhile masterplan for Meridian Water whilst leading on a publication with input from Bell Phillips Architects and Henley Halebrown Architects on their ideas – Gardensity and Intentional Neighbourhood, respectively.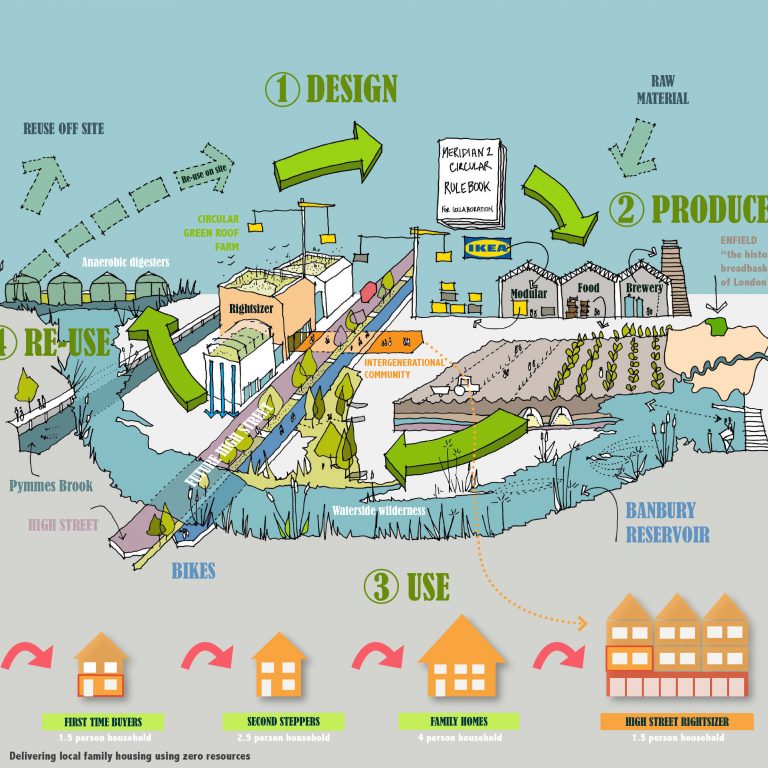 London Borough of Enfield leader councillor Nesil Caliskan said: "I was really pleased with the brilliant response to our Meridian Water design competition. All of the submissions provided fresh ideas whilst reimagining our Phase 2 outline planning application in a way that really improved the sustainability credentials of the whole development. 
Three entries stood out to the judging panel and I am incredibly excited about seeing the concepts they presented getting developed into a set of proposals that we can implement at Meridian Water over time."
Rory O'Hagan, director, Assael Architecture, said: "Our 'Rightsizer' proposition responds to emerging demographic and housing trends and offers a model for a post-Covid high street less reliant on retail, reimagined as a resilient community and care hub comprising housing, culture, education, workspace and retail. 
Moving to Rightsizer will be a positive life-enhancing decision. We want our residents to feel comfortable ageing in place in their community, supported by a broad range of care services. We understand that their spatial and physical needs will change significantly over time and our Rightsizer building system will adapt to this, comprising a low carbon and reusable 100-year superstructure and a 10-year lightweight infill that ensures flexibility and reconfigurability."
AECOM associate director Adam Parkes said: "This is a tremendously exciting opportunity to work on the next phase of the Meridian Water development for the London Borough of Enfield, which we hope will set a precedent for sustainable regeneration. AECOM is proud to be part of the Assael Architecture team, delivering innovative engineering, cost management and sustainability services."