Assael wins planning consent for Sutton High Street development
S2 Estates has been granted planning permission to redevelop a site in Sutton, South West London. The mixed-use scheme, designed by Assael Architecture, features 40 residential apartments with two ground floor units providing over 6,000 sq ft of retail space.
The scheme is in the heart of the area known as Sutton Green Village on the site of a former Burger King drive-through restaurant.  The development acts as a gateway into the town centre from the north and will provide local jobs and bring economic benefit to the local area.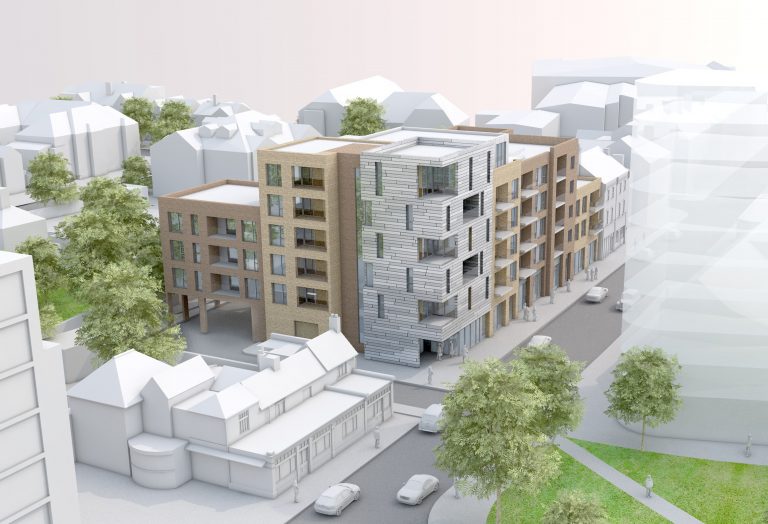 Assael Architecture's scheme shows sensitivity to the existing street scene whilst providing a landmark and contemporary building.  In particular, care has been taken to ensure that the design does not affect an adjacent listed building, the Prince Regent Pub, and its setting.  Following a thorough consultation process, local residents and local businesses have been closely involved with the design of the scheme to ensure the development will benefit the community.
The design provides a continuation of the retail high street breaking the massing into a series of smaller distinct elements to reflect the architecture of the existing High Street. Floating above a glazed retail frontage, the corner element of the building is clad with a patchwork of contemporary aluminium rainscreen tiles running horizontally, interspersed with elegant vertical strip windows and recessed balconies, reinforcing the high quality design and providing a landmark for this important gateway location to Sutton.  As the building progresses towards the High Street, two types of brick create a connection between the dynamic new façade and the existing terrace streetscape.
John Assael, Chairman at Assael Architecture, said: "This project is designed to complement the existing high street and will bring this disused site back to life by regenerating the local area and encouraging further investment to this part of town."