Assael designed boutique hotel in Greenwich is shortlisted at New London Awards
The Greenwich Hotel, the first boutique hotel in Greenwich, has been shortlisted for a prestigious New London Award.
The former Maurice Drummond House, a Police Section House that dates back to the 1940's, has been carefully restored to bring the London Borough of Greenwich its first 4* boutique hotel.
The annual NLA Awards recognise the capital's best projects across all sectors of the built environment and identify buildings that make a wider contribution to their surroundings and the City.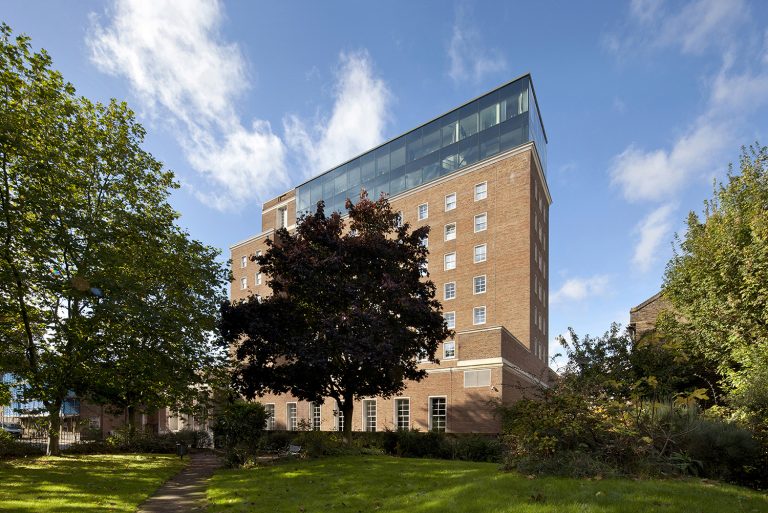 The external shell of the original building has been retained along with many of the original architectural features and a two-storey glass extension has been constructed at roof level. Several internal features including the original staircases and doors have also been restored to their former glory.
The building sits in the Ashburnham Triangle, a Conservation Area in Greenwich, and due to its size and scale is classified a Section 20 building under the London Building Act (1939) and formerly received the RIBA Architectural Medal. The building was closed in 2001 due to lack of demand and costs and it gradually fell into disrepair including vandalism and graffiti. In 2008, Perequin Limited purchased it and our design team began work on bringing the building back to modern standards.
The new lightweight addition provides a sophisticated and modern intervention to the building with care to the original form and massing. It provides guests with expansive views across the Central London and the City.
The hotel is currently in Trip Advisor's Top 100 Hotels in London.
The New London Awards winners will be revealed at July's annual lunch at the Guildhall.