What is Co-Housing anyway?
The built environment is constantly changing, pulled by the forces of consumer demand, lifestyle shifts and supply-side constraints. These shifting cultural and market conditions mean that new housing tenures and products are constantly emerging.
Our research at Assael explores these forces, including focusing on the rise of intergenerational living and the related tenure types, such as co-housing, across the UK and Europe. Developed nations are facing demographic shifts that will dramatically change what is demanded of the housing market. As populations get older, the market needs to be able to provide housing solutions that offer companionship, activity, independence and care, all at an accessible price point.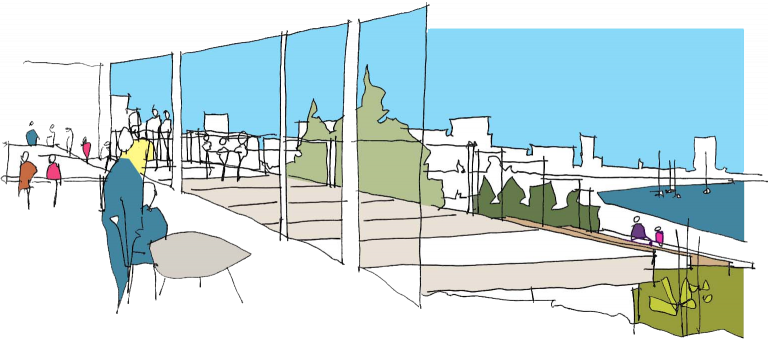 This ongoing research project has taken us across continental Europe, where we've visited a range of live projects, spoken to the people who designed and manage them, and to the residents who call these places home. We visited the Humanitas Foundation in Rotterdam to meet the legendary Dr Hans Becker, a man the Financial Times describes as an "iconoclastic radical", to learn about his unique approach to 'retirement living'.
Closer to home, the members of our 'later living' research group draw on their own experiences, and those of their friends and family. Here is an account from the father of Per Anton Risan, one of our senior architects. Per's father, Mikael, lives in a co-housing apartment scheme on the outskirts of Stockholm in Sweden. Mikael's account gives us a glimpse of what life is like at Sjöfarten.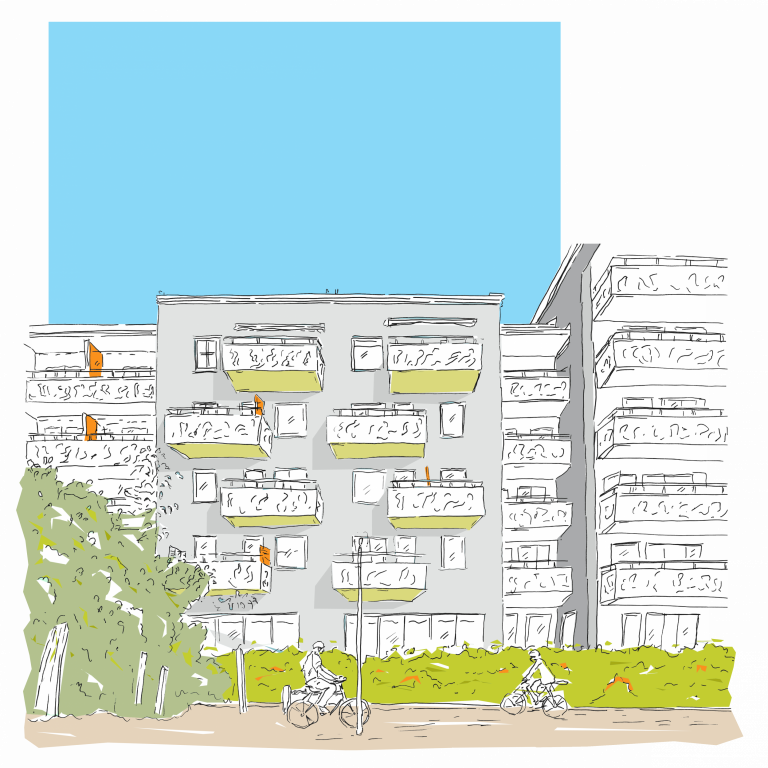 My name is Mikael, I'm 66, and I'm one of 50 people living in a co-housing apartment building in Hammarby Sjöstad, a lovely suburban area of Stockholm. It's a collective community where each tenant has their own individual apartment, but we also have access to generous community areas. I'm in a studio, which suits me perfectly in size – there's less to tidy and clean!
Our history:
Sjöfarten was first envisaged back in 2000, and was ready for tenants in 2008. We are run by our own Co-housing Association that leases apartments and the common areas from Familjebostäder (family homes) who we pay the rents.
The association functions as a residential committee, with decisions made by an elected board – members of which are re-elected every two years. We also hold regular meetings with all tenants to discuss relevant topics. This year's our 10th anniversary; we have lots of activities and celebrations to discuss and plan.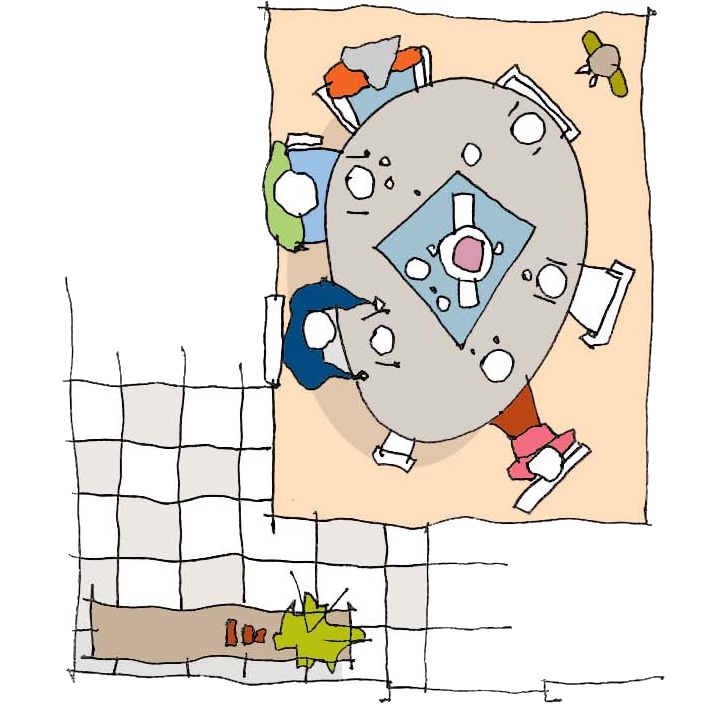 The residents – who we are:
The average age is around 60, and the minimum age to apply was 55 when I moved in seven years ago. We come from all aspects of life and society – we have doctors, teachers, graduates and social workers – the sort of jobs in which we're used to working with people, something that potentially helps us interact better with one another.
A lot of us are singles. I had just come out of a long-term relationship, and discovering co-housing was the best thing in getting me back to my former self again. Rather than sitting alone in my flat, I instead have people to socialise with, to get to know, to cook with and to laugh with.
The apartments:
The 47 apartments include studios (40 sq m, approx. £660/month), one beds (60 sq m, approx. £770/month) and two beds (70 sq m, approx. £940/month). These prices are £80-100 cheaper than similar flats in the same area, due to us managing most aspects of the building and tenancies ourselves. We have help from the local janitor to fix any building defaults when required (provided by Familjebostäder).
Every apartment has its own private balcony and access to additional storage in the basement, ranging from 3-6 sq m per home. This is ideal for storing winter clothes (a necessity here!) or suitcases during the summer months.
Shared communal space:
We have nearly 400 sq m of shared internal community areas, including a large kitchen, dining room, meeting room, lounge, library, sauna and a large activity room in the basement (for gym, pub nights, movies, art exhibitions etc). This space is also sometimes rented by tenants as a guest apartment for their visitors.
We have access to an external community garden, which includes a decking area with a large table for communal gatherings and meals, a barbeque/cooking area, flowerbeds, and patches where we grow our own vegetables. There is also a bike store, which is great as there are some lovely waterside cycling routes around locally.
Activities:
From cooking, gardening, dance evenings, film and reading clubs, to summer parties and birthday celebrations, there's a whole range of activities. If anyone has an idea they want to try, we try to make it happen.
We make and eat meals together too. We're sub-divided into six different 'food teams', with 8-9 people in each. Each week, one team is responsible to prepare the dinners for four nights that week.
The food teams (and cleaning teams) are one of the very few 'compulsory' things we all have to do, but it's an enjoyable 'chore' – it's the time to meet and get to know the neighbours. Each resident contributes £3.50 per meal for the cost of ingredients, which really isn't a lot for such great home-cooked food – we have some really talented chefs among us. And often there's a lot of food left over which can be bought at a reduced price to be eaten as lunch the following day – something I often do.
Most of us eat dinner together downstairs in the dining room, but if you've had a stressful day, you might want to bring it up to your apartment and have it there instead, and that's all fine too. It's important to note that although we are all co-habiting, we also do have our own individual lives.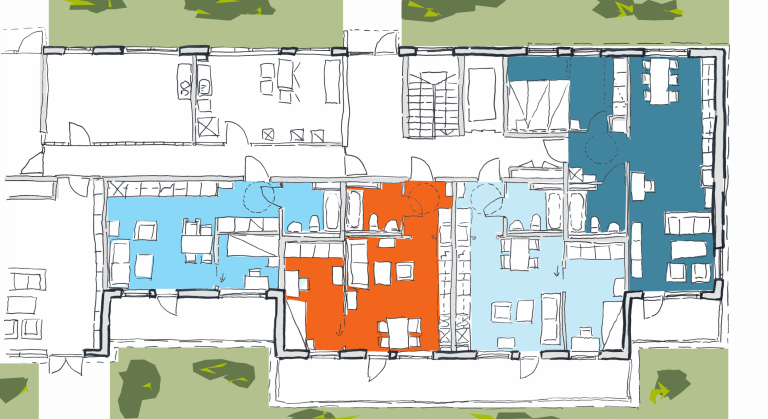 What could be improved?
One main thing comes to mind – introducing a lower minimum entrance age to get more variety in residents and broaden the spectrum of life experiences and expectations.
Conclusion:
Co-housing might not be for everyone, and sometimes it is hard work, but the overall experience has been very positive and really beneficial for me. I'm not sure where I'll be in ten years – maybe I'll still be here, or maybe I'll move somewhere more central.
Thank you for reading my little story. I hope it might help you with your ideas on life in a co-housing environment, especially if you're wondering how you'll cope with growing older, or are worried about being alone like I was.