Meet the Team: Ed Sharland & Holly Barker
As part of our 'Meet the Team' series that introduces staff from different areas of the practice, meet Ed and Holly.
Ed and Holly are our staff-elected Trustees of the Assael Architecture Employee Ownership Trust (EOT) for a term of two years.
Associate Ed joined Assael as an architectural assistant seven years ago, whilst Senior Architect Holly started here two years ago following several years at Allies and Morrison.
Together, the Trustees are the voice of our staff, representing them as beneficiaries. As part of our 'Meet the Team' series, they talk about Assael's shift to an EOT and their roles as Trustees.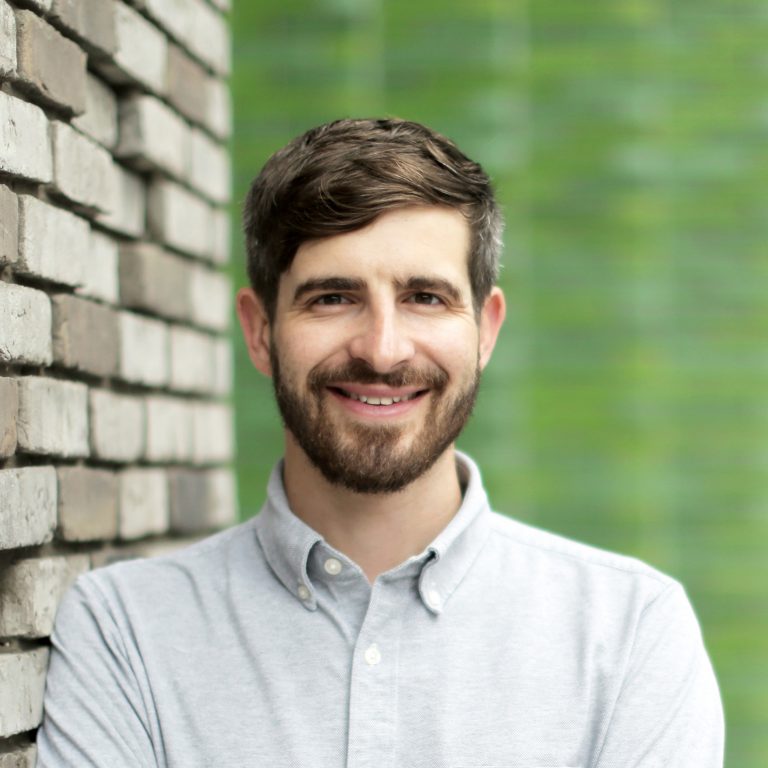 Why do you think you were both chosen by staff as Trustees?
Ed: I think Holly and I were chosen for a few reasons. We're both approachable, we both have great working relationships across the practice's different teams, and we're both really involved in the day-to-day functioning of Assael. We run projects which mean we're constantly engaged with every layer of the practice – from managing Part I students, to reporting to directors and talking to clients – so we have a good understanding of how everything runs.
I've also been at the practice for over seven years, which makes me a familiar face around the studio.
Holly: For me, I think it made a difference that we're both fairly young. We're integrated into the daily life of Assael – both its work and its social culture, but we're not seen as management. I think some of the more junior members of staff felt we were able to represent their best interests as it wasn't too long ago that Ed and I were students ourselves. Unlike Ed, I'd only been at Assael for 15 months when I was elected, but at the same time I had gained extensive experience at another large practice. I guess staff saw this as an advantage as I'm able to give a different perspective.
What does the role of Trustees entail?
Holly: Our main role as Trustees is to sit on the EOT board, alongside the independent chair and Assael co-founders John Assael and Russell Pedley. The board holds quarterly meetings, which we attend to ensure that the management of the practice is adhering to the goals set out in the business plan. Each meeting includes an update from the managing director, Pete Ladhams, which sets out the financial performance of the practice, progress on new business, and any key milestones approaching.
Ed: As the Trustees in these meetings, we're all there to represent the interests of the staff so it's our role to question and critique aspects of the business where we feel it isn't clear how they benefit staff.
One of the most important roles we've taken on is being the link between management and staff, so communication and transparency has become even more important than it was before. We've brought in initiatives, such as the anonymous suggestion box where everyone can put forward ideas, queries or bring potential problems to our attention. We use topics that arise from this box to inform the agenda for our staff engagement forums – where we get together with staff in groups of between 20 and 25 to discuss matters in more detail – and for the board meetings.
Holly: We've also created a quarterly EOT newsletter which is circulated amongst all staff that sets out the practice's expenditure, fee income, progress in meeting our KPIs – both financial and others – as well as the outcome and status of the suggestions put forward in the suggestion box and at the forums. So, ultimately, our role is about communicating staff sentiment to the board, and better understanding, and communicating, how business decisions will benefit staff as the beneficiaries of the EOT.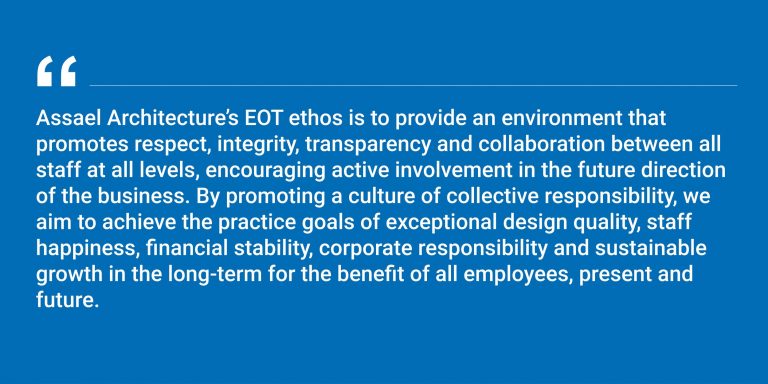 Is the reality of the Trustee role as you had imagined? Were there any surprises?
Ed: To be honest, none of us really knew what the role would entail, not even John or Russell, so it's been a learning curve for all of us. Holly and I have both invested time and effort in getting our heads around the finer mechanics of the business, such as finances, the allocation of resources, the structure of the practice and its ambition, as well as spending time ensuring we're communicating to staff in the best way we can.
Holly: For me, it has been humbling how the staff have responded to us and entrusted Ed and myself with their suggestions or concerns. I've also been encouraged by the support of John and Russell, how they've shared certain aspects of the business with us and how they've respected and listened to Ed and I when voicing the opinions of the staff. What's more, the EOT knowledge-sharing sessions that we take part in through the Employee Ownership Association (EOA) have been heartening and encouraging. Every practice involved has been so open and transparent about their processes and the challenges they've faced during the transition to an EOT. It's also nice to see that, despite only being a young EOT, Assael is already a trailblazer as our staff culture has always been so strong.
What sort of characteristics do you think are required to successfully fill the role of Trustee?
Holly: I think the most important characteristic is being approachable. Without staff feeling like they can pull you to one side and openly talk to you about anything and everything, you won't be able to fill the role. Beyond that, I think being honest, trustworthy and level-headed helps a lot, as you need to be seen as an impartial and neutral person that can represent the interests of the staff to the board.
Ed: I agree with Holly, but also think it definitely helps when staff across the practice regard you as a capable architect and colleague. By being seen to be a safe pair of hands with the day job, I think staff believe you'll be able to carry the same effort and diligence over to the role of Trustee.
Holly: We quickly realised that we needed to get to grips with HR-related skills too, which neither of us had any prior experience with. As Trustees, there are certain aspects of our role that require skills such as professional empathy and raising or responding to issues in an appropriate manner.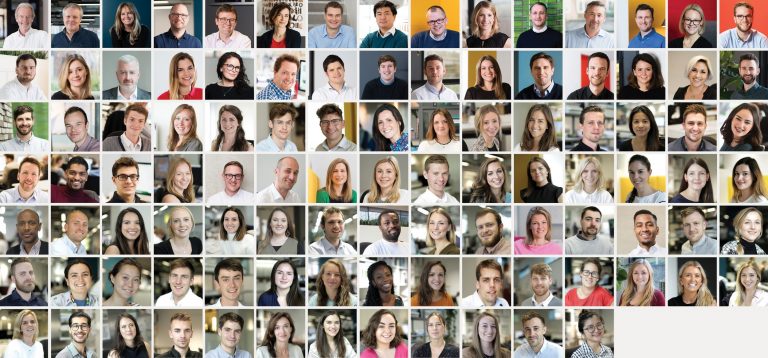 What sort of positive changes do you hope to enact as part of your roles as Trustees?
Holly: Empowering staff is about using the EOT as a platform where everyone has a say and a sense of control over the practice's future. It's simply about embedding Assael's people-focused culture into the EOT to make sure every member of the practice feels part of it. 
Ed: We've been focusing on the incremental improvements we can make, which all add up. Ultimately, our roles are about making everyone at Assael feel empowered by the practice's activities and ambitions, with each member of staff having a say over the direction the practice takes.
Ed: There are a few common themes that have come out of the suggestion box and staff forums, some larger changes than others, and some out of our control as Trustees. But, for example, making the practice more sustainable is a key focus, and even making small changes, such as providing dairy-free milk alternatives, is contributing to this wider ambition.
Holly: We have already implemented a few small changes in the relatively short period of time since becoming an EOT. Some of these are subtle but have had a definite effect on the office, including introducing electronic payslips, reviewing our spend on cleaners and flowers, and investigating standing desks. 
Ed: One of our major aims is to improve internal communications within the company, ensuring that everyone remains up to date and all are working towards the overall practice goals and values.
How do you balance the commitments of being Trustees with your day jobs and what are the challenges of being Trustees?
Ed: The role has been more time consuming than we imagined, but that's partly because we've wanted to put in the time to get to grips with it. Managing architectural work and being a Trustee is a difficult balance as ultimately project work has to come first, but we want to make sure we do our duties as best as we can.
Holly: As we're the first to fulfil the role, I think it will get easier for the Trustees who follow us; we've spent the time and effort creating the infrastructure and scope of the role. But the role provides a nice alternative to our day-to-day architectural work as we have to use different skills and interact with various people within the practice beyond our project teams.
Ed: One of the biggest challenges I've found is acquiring the new skillsets required and learning how to manage people's expectations. It's impossible for things to change overnight, so we have to be diplomatic, honest and transparent about what we can and can't achieve. It's really important to represent staff's views and give considerations to all view points and opinions even if they don't align with your own.

What advice would you give to future Trustees or those with similar roles at other practices?
 Ed: Do it! It's been such a rewarding and eye-opening process so far and I would encourage anyone looking to put themselves forward to be a Trustee to go for it. I've learnt huge amounts about business, finance and HR that I wouldn't have done without being a Trustee.
Holly: I'd wholeheartedly agree. In terms of advice for future Trustees, I think it's essential that you talk to as many people as you can within your practice, and the other practices of the EOA, be open to learning from others and do your best, as that's all you can do.
Ed: I think it's important to stress that there's no 'one size fits all' for an EOT or the role of Trustees. Each practice and each term as Trustee will have different requirements that demand a variety of approaches. The most effective way to approach the role is to be ambitious, transparent, but not to promise the world.
Holly: To add to that: don't beat yourself up if you don't achieve something straight away as a Trustee. Change takes time, and there are a lot of incremental wins along the way that should be recognised and celebrated.