Co-living: the friendly future of UK housing?
The momentum behind co-living seems to be building and it could provide a way to help end the housing crisis, says Pete Ladhams for Housing Today.
Throughout the UK, councils and local authorities are looking to innovative models to help solve the housing crisis. One of the key drivers to this diversification is the need for new homes that the for-sale or private buy-to-let markets cannot provide by themselves. London alone needs 65,000 new homes a year to house its growing population, and half of all UK local authorities are likely to fail their housing delivery tests for 2020.
But between build-to-rent, co-living and, to some extent, later living developments, there is an array of emerging housing options that are providing genuine alternatives. And the outlook for these tenure types is looking promising; they're enticing fresh capital into the UK market at a time of continued financial uncertainty, with institutional investors and pension funds from all over the world lining up to build homes.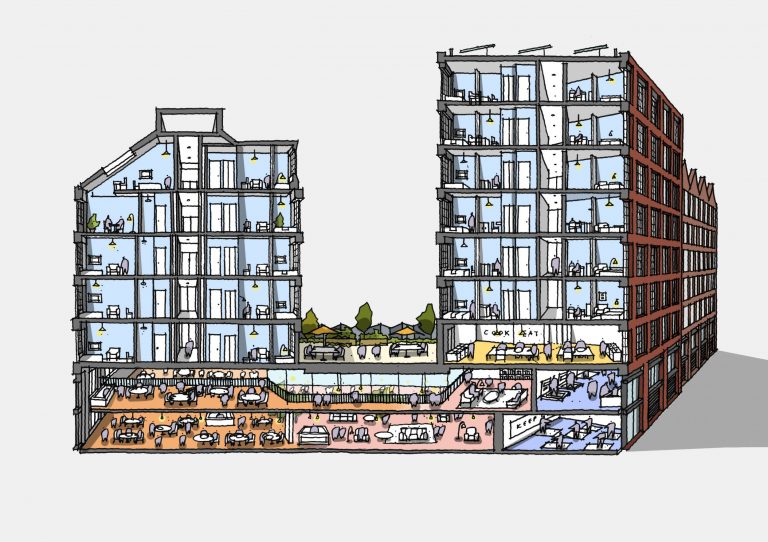 The rise of co-living
Co-living is one such tenure that is starting to gain traction. Basically, co-living is a modern housing option that gives residents an opportunity to not only share their living space with one another, but also share similar intentions, values, and interests.
In 2018, the Greater London Authority (GLA) officially acknowledged the tenure type in the London Plan, providing advice to councils. Although the GLA has not shown further support of co-living as of yet, there has been a concerted effort by developers to encourage a rethink of the policy around co-living.
Since then, we have seen multiple signature projects across the UK and Ireland come to fruition, including schemes in London, Manchester and Dublin. And the momentum seems to be growing, with 76% of housing professionals telling an industry survey that they expected a rise in co-living developments through 2019, with the asset class anticipated to be worth £275bn by 2025.
And it's no wonder – co-living has countless benefits for tenants, investors and local authorities. The essence of co-living is found in its prefix. The 'co' touches on what many people are looking for in a home: community, collaboration and co-existence.
The design and operation of the developments reflect this, with the prioritisation of communal spaces, additional services and building-wide initiatives to help bind communities. As such, the homes are generally smaller than other housing options, meaning that co-living schemes can be denser.
Denser developments drive up the intensification of land use in urban areas – a necessity if we are to get anywhere near our housing targets. And the flexibility of their apartment types means that developers can utilise sites that would be too restrictive for build-to-rent or standard residential schemes.
Undoubtedly, there are some concerns from local authorities that by exploring co-living projects, they are not going to be able to provide enough affordable to-buy options. And with prime minister Boris Johnson outlining his plans to focus on homeownership and encourage part-rent, part-buy tenures, these concerns aren't baseless.
Yet, pursuing a home ownership-at-all-costs housing policy negates the disparities that exist within the land market, where the financial accessibility of housing in urban areas far outstrips that of more rural locations. In highly demanded, economically-abundant areas, home ownership is not an option for the majority of the population. This is why alternative tenures are so important within the UK's housing mix, with co-living offering aspiration and accessibility.
Creating the 'co'
Socially speaking, there's undoubted benefits to living in such developments. In 2016 to 2017, 5% of adults in England reported feeling lonely "often" or "always", but those numbers were significantly higher for those aged between 19 and 34 years old. Considering the ubiquity of this problem, we need to be open to the idea that housing can help.
By creating a more communal form of living, co-living offers what many people – young and old – are looking for: social interaction, friends, colleagues, potential collaborators and a support network all wrapped into the floorplan. And there's no reason why co-living developments have to stand alone, as they can work in larger mixed-use developments to bring activity and vibrancy to an area, without taking anything away from the other uses. 
The non-competitive nature of co-living can actually speed up its delivery. Unlike for-sale housing, where the sale of homes takes place over a longer period of time, co-living can bring volume to the market in one instance, providing additional homes and – most importantly – bringing people to an area as part of a wider placemaking exercise.
And while the younger generation may be the target market for many of the established UK providers, there is no reason that co-living can't work for other age groups. Across continental Europe, co-living schemes with a strong intergenerational focus has been an unrivalled success, helping to tackle loneliness and reducing the burden on local health services.
Collective working and living are becoming more of a feature in modern life. And with alternative tenure types emerging all around us, there seems to be genuine alternatives within the housing market. The adaptability and additionality that co-living developments can deliver will make it an attractive choice for consumers, local authorities and investors; both now and in the future.