Assael secures planning for landmark scheme to continue the Olympic legacy
In one of the most significant regeneration schemes to come forward since the Olympics, Assael Architecture and Danescroft Land have successfully gained planning consent for a residential-led mixed-use development in east London.
Clockhouse and Access House will create 491 new homes designed specifically for the 'Build to Rent' sector. Residents will benefit from a range of shared amenity spaces such as spacious roof top gardens and terraces with panoramic views of London and the Olympic Park, an in-house gym and residents' lounge.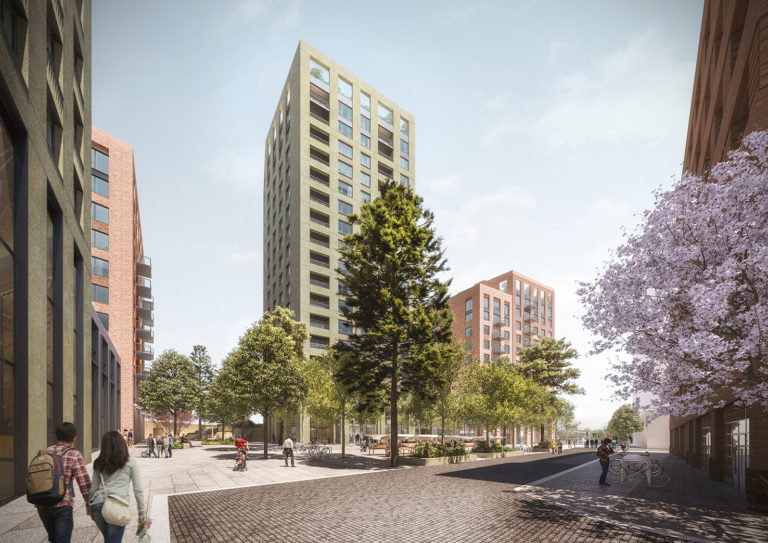 Flexible community facilities, affordable workspace and retail units designed around a new public urban square will create a thriving new cultural district for the area. This square, at the heart of the project, will act as a focal point for the development and open up the site to the River Lea, transport links and neighbouring schemes. The community spaces are designed for flexible use with movable storage walls and double height ceilings that provide the opportunity for pop-up spaces.
Assael collaborated closely with adjacent land owners and their design teams to realise the vision of the SPD masterplan. As the first piece of the Bromley-by-Bow South masterplan, this project gained consent within 12 months of instruction. The Quality Review Panel offered their unreserved support for the proposals, commending Assael's architectural design as "outstanding".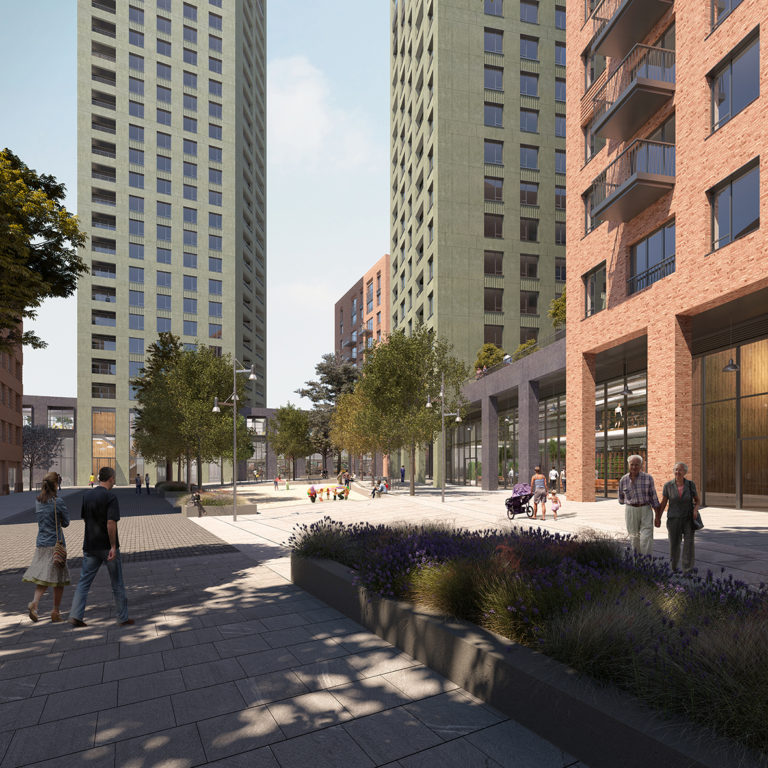 Assael's design draws inspiration from former industrial buildings, the River Lea and the listed Three Mills Studios to create a simple, elegant and timeless residential typology.
Two tall buildings of 27-storeys and 17-storeys, clad in pale green concrete panels reflecting the mossy tones in the tideline along the river edge, will identify the scheme within the surrounding area. Three lower red brick buildings, inspired by the industrial use that once occupied the site, will complete the scheme. Subtle details of fluting in the precast panels and corbelling in the brickwork further reflect the industrial heritage of Bromley-by-Bow.
The harsh environmental constraints of the adjacent A12 and railway have been mitigated through design, which includes a contribution to a new road junction and measures to improve the pedestrian experience through the site from the Bromley-by-Bow underground station.
Assael Architecture has extensive experience designing and implementing Build to Rent schemes throughout the UK, with a focus on regenerating large urban sites through high quality design, operational efficiency and the long-term performance of the building. Their Pontoon Dock project with Grainger and Linkcity started on site in September and Creekside Wharf for Essential Living is due for completion at the end of 2018.
Dominic Fryer, Development Director at Danescroft Land, said:
"Bromley-by-Bow is an area undergoing rapid change, so it was important for us to maintain a strong sense of community while delivering a significant number of high quality new homes in a well-connected central location. Offering a generous range facilities and spaces for both the residents and the wider public, we are delighted this has gained consent and look forward to continuing the vision around the Olympic legacy."
Peter Ladhams, Director at Assael Architecture, said:
"This scheme is hugely important for east London and is one of the first developments to unlock land around the River Lea. We have sought to put the residents' needs and experience at the heart of the design, offering a range of amenities alongside a generous contribution to the public realm, opening up the site to the river, transport links and neighbouring schemes."