Assael and Prosperity Capital Partners get the green light on complex Manchester scheme
Prosperity Capital Partners and Assael Architecture have successfully secured planning for a £100m regeneration development in the centre of Manchester.
The 556-home mixed-use scheme, named Old Brewery Gardens, is part of a residential-led regeneration on the first phase of redevelopment of the famous Boddingtons Brewery, a regional landmark opposite the Manchester Arena. Out of the 556 homes, 181 will be for sale and the remaining 375 have been designed specifically for rent.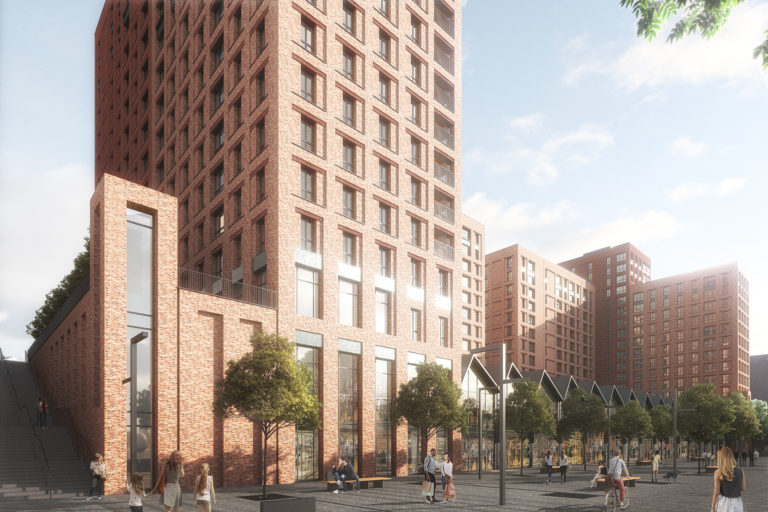 The award-winning Prosperity Capital Partners has a combined portfolio and pipeline of nearly £100 million worth of purpose-built student accommodation. Old Brewery Gardens, their first BTR scheme in the regions, has been designed by London-based Assael Architecture, who have extensive experience in delivering high-quality BTR projects.
The project is set to transform the existing site from a surface car park into a hive of activity with a mix of exciting ground floor retail and community space alongside a range of amenities for residents. Residents will also benefit from great connections to Manchester city centre and surrounding towns, with Victoria Station just a two-minute walk away.
The buildings will be clustered around a striking communal garden at the heart of the scheme, which will be used intermittently for uses such as an open-air cinema and brings vital green space to Manchester's centre. Other amenities will include a gym, residents' lounges and rooftop terraces that will be used for outdoor yoga.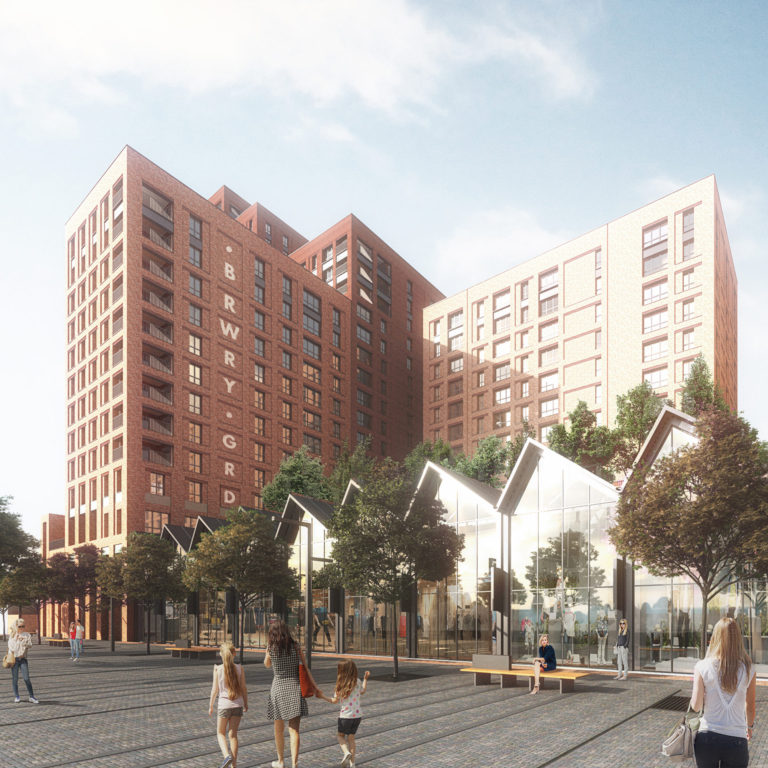 Centred around a strong cultural strategy, the development will also include 40,000 square foot of retail and commercial space that will drive further investment and job creation into Manchester's thriving economy, as well as creating a new retail district for the wider community.
Assael Architecture's design will create high-quality homes that allow communities to meet and thrive. The design is mindful of Manchester's existing character, using materials, colours and an architectural language all consistent with the surrounding red brick buildings, helping tie the new in with the old.
Planting complete with trees, shrubs and stone surround the proposed access to Great Ducie Street, which will improve the current streetscape and add some much-needed greenery to the area. The development aims to tie the existing community into the site, giving locals the opportunity to set up businesses within the new development. The bustling retail spaces, combined with the public realm, will provide an exciting shopping and leisure experience for both residents and the wider public.
Old Brewery Gardens is to start on site in Q2 2019 and will be completed by Q4 2022.
"The red brick used throughout the scheme subtly nods to Manchester's mercantile past and its booming future. The development is one of our most ambitious in the regions, taking a famous regional landmark and transforming it into a new destination." Félicie Krikler

/ Director, Assael Architecture
Prosperity Capital Partners is an integrated investment and development business with plans to deliver more than 10,000 new homes over the next decade across the UK and Ireland, with a specific focus on the regions and Dublin. In 2016, Prosperity Capital Partners won the Deal of the Year award at the East Midlands Property Awards for their Cathedral Court scheme in Derby, which was bought by Aviva.
Ed Fowkes, development director at Prosperity Capital Partners, said:
"Securing planning for Old Brewery Gardens is a momentous occasion for us as a business. Such a large project, with a diverse and exciting offering for both residents and the local community, will make a significant contribution to a Manchester that continues to thrive culturally and economically.
"Upon completion, Old Brewery Gardens will stand tall as a shining example of what genuinely mixed-use developments can bring to the regions. By offering for sale homes, as well as high-quality, professionally managed rental apartments, alongside generous amenities, we can create homes for a range of prospective residents, all with differing demands and expectations. We understand that a catch-all housing solution won't cut it for the booming regional cities and to continue growing, they need top drawer housing."

Félicie Krikler, director at Assael Architecture, said:
"Now that the project has secured a resolution to grant, Old Brewery Gardens is set to make a significant contribution to Manchester and the surrounding area, both culturally and economically. The scheme will deliver much-needed housing for those enjoying Manchester's growing regional economy, while tying itself into the existing landscape and community. The red brick used throughout the scheme subtly nods to Manchester's mercantile past and its booming future. The development is one of our most ambitious in the regions, taking a famous regional landmark and transforming it into a new destination. Upon completion, it will be a contemporary landmark that delivers homes and opportunities to such an exciting and ever-changing city."
John Cooper, partner at Deloitte, said:
"We are absolutely delighted that Old Brewery Gardens has secured resounding planning permission. The scheme is set to make a significant contribution to the flourishing build to rent market in Manchester. The diverse offering of the project, blending residential uses with flexible commercial and retail space, will make Old Brewery Gardens a prime example of what build to rent can provide the regional cities."