Artwork unveiled at Great West Quarter
Assael Architecture has collaborated with artist Alison Turnbull to create a piece of distinct artwork that is embedded into the façade of a building at Barratt's 12-acre West London site.
The work entitled 'Colour Chart Remix TW8 OGL', the postcode where the art sits, is a result of a competition guided by the culture and placemaking consultancy Futurecity along with Assael.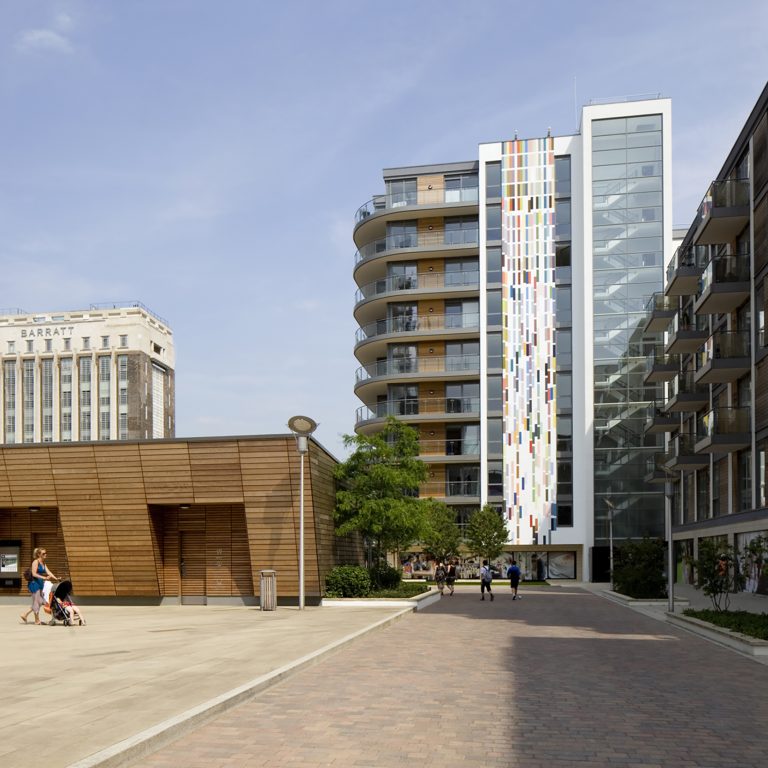 From the outset, it was decided that a piece of public art would be integrated into the development and act as a visual marker to distinguish the scheme.
Alison Turnbull, known for her explorations of colour, order and chaos, was chosen after a rigorous competition to design the art piece that now cascades down the nine-storey apartment building fronting onto the public piazza.
The team worked closely on the development of the piece and by using a colour chart from render specialists, Sto, Turnbull created her eye-catching piece. Turnbull's proposal did not repeat a single colour from the 800 Sto colour chart system so each colour was given a codename. These codenames were transferred onto the architectural plans through digital mapping. The result was a computer image of the artwork shown in context on the building elevation. This then became the medium for both artist and architect to fine-tune the piece and develop a process of translating this vision into an architecturally deliverable artwork.
This is not the first time Assael have collaborated with established artists. The Rochester Row scheme saw artist Oliver Marsden create a striking art piece within the building's façade, and Paul Coy has recently been putting the finishing touches to his light installation over in Lewisham for Renaissance.
John Assael, Chairman at Assael Architecture commented: "We have always had a serious commitment to collaborating with artists. We worked closely with Alison Turnbull throughout the initial concept and liaised with her throughout the development and implementation. We are thrilled with the result, it can be seen from the Great West Road and has achieved what we set out to accomplish. We will continue to be involved in examining how architects and artists work together to shape new approaches to façades, building design and the public realm".