We love designing in this city of villages
London's 'villages' are vital to its economic, social and environmental sustainability and contribute much to this city's character, sense of place and performance as one of the global cities of the world. We have designed schemes in many of these 'villages' and our starting point in our evolutionary design process is to first understand the character and context of the particular 'village' setting.
This unique character to London was famously identified in this beautifully designed graphical map intended as a 'social and functional analysis' of London by Patrick Abercrombie and John Forshaw. In 1941, the Second World War had devastated London. The British government needed a plan to rebuild the city. Lord Reith (founder of the BBC and wartime Minister of Works) hired town planning academic Patrick Abercrombie with London's municipal architect John Forshaw to design the future London. Two years later, Abercrombie and Forshaw returned with the Plan.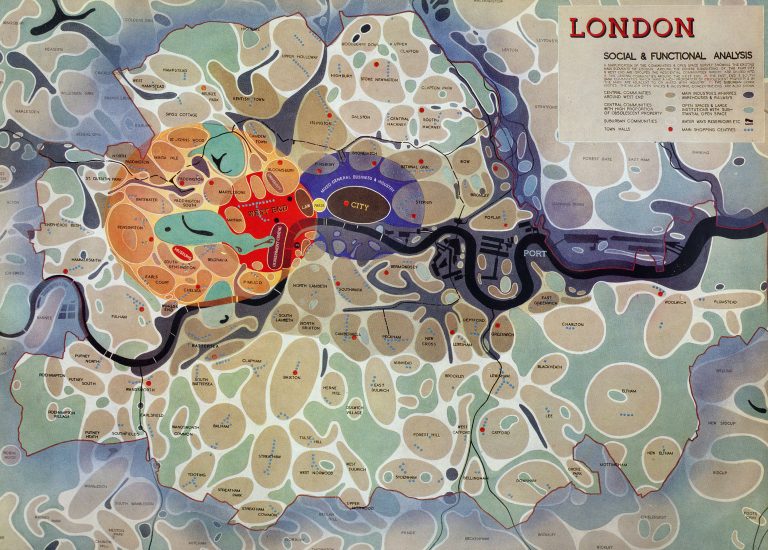 This map of London was intended to be used as a grand masterplan of how a post-World War II London could look. Each district appears as a simplified "blob" with rounded edges – many districts are simple ovals. Specific single "University", "Government", "Press" and "Law" districts are all defined. Blue dots mark out the main shopping streets, with town halls marked with larger red dots. The accompanying text reads:
"A simplification of the communities & open space survey showing the existing main elements of London. Around the centre consisting of the Port, City and West End are grouped the residential communities which are divided into;
Central communities around the West End,
East End & South Bank communities, which have a high proportion of obsolescent property & in the main are adjacent to or mixed with industry,
Suburban communities, the major open spaces & industrial concentrations are also shown."