Assael wins planning consent for Queen's Wharf riverside development
The proposed Queen's Wharf development that sits nearby the Grade II* Listed Hammersmith Bridge in Queen Caroline Street has been granted planning permission.
Assael and A2Dominion have been successful in securing planning consent with Hammersmith & Fulham Council following a history of refused schemes from former architectural practices.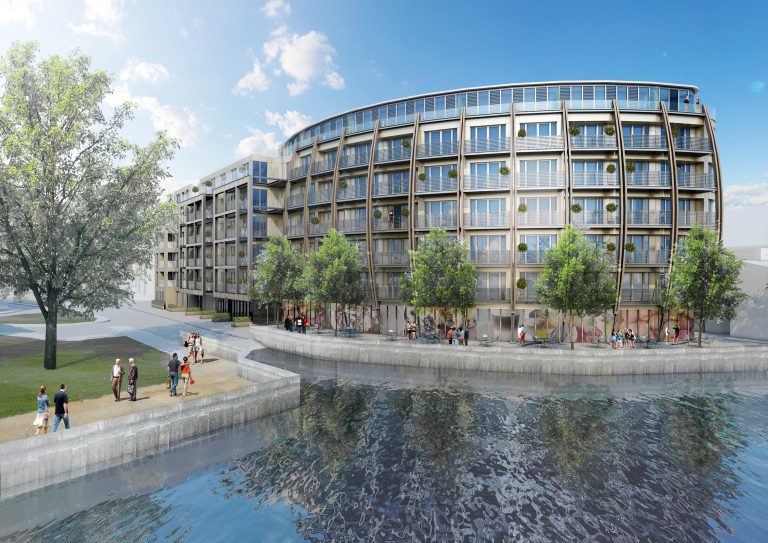 The new building will rise from four storeys on its Crisp Road frontage to seven storeys facing the River Thames. The design of the scheme creates a curved façade in response to the Grade II* Listed Hammersmith Bridge and was supported by English Heritage.
The building steps back at ground floor to create an increased sense of space for the riverwalk whilst providing natural shading and valuable outdoor terraced space for the restaurant.  It steps back again at the sixth floor to create generous terraces for the upper floor apartments and enhance the townscape setting.  Brick is the primary material along Crisp Road, blended with a glass and steel façade, which wraps around the riverwalk.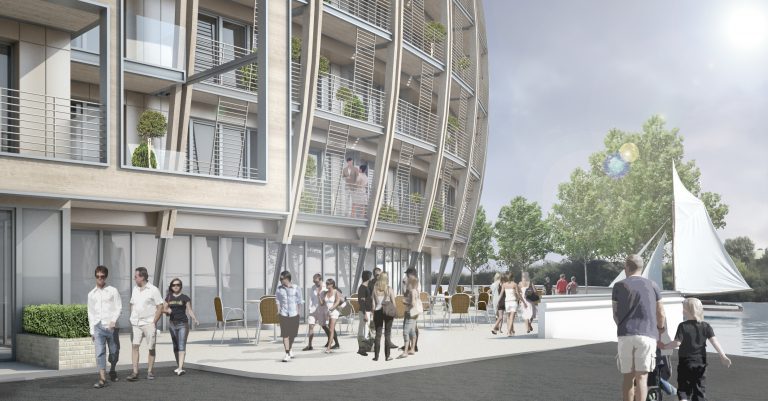 The site has a long history of planning refusals and has been subject to schemes by Conran & Partners, Scott Brownrigg and Zedfactory.
The proposed scheme will contribute to the riverside with an innovative design, which will add to the quality of the local townscape. The proposed form and height is appropriate in the contact to the Conservation Area along this part of the riverside, and will respect the setting of the listed Hammersmith Bridge.
The architect, Niall Cairns of Assael Architecture, said of this approved scheme: "We have overcome the issues of previous proposed schemes. This project for A2Dominion is an elegant development, which offers occupants and visitors the opportunity to enjoy this unique riverside location.  It is sensitive to its surroundings, in par­ticular the Grade II* listed Hammersmith Bridge, and dramatically enhances the area for all to enjoy."